Wood Duck
STATUS: A currently produced motif with single bird.
Retired mating pair on green band platters.
LATIN NAME: Aix sponsa
SHAPE: Current Dinner Plate, Platters, And Other Accessory Items

NOTE: The Wood Duck is seen as a single bird on dinner plates with a acorn border. There is also a retired version, most often seen on 13 inch platters with a green band, showing a male and female bird with nestlings. The photo below is from a platter. It is found mostly on oval platters and this design may be retired.
The Portmeirion bird from the Natural History Of British Birds by Edward Donovan is shown.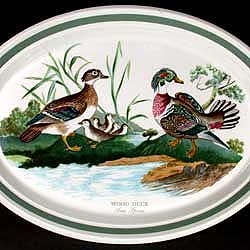 $0.00
Retired Rare Birds Of Britain Oval Platter WOOD DUCK 13 Inch By Portmeirion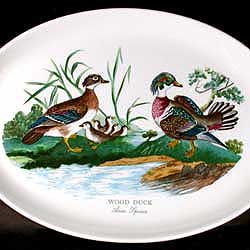 $75.00
Retired Rare Birds Of Britain Oval Platter WOOD DUCK 13 Inch No Rim By Portmeirion
Displaying 1 to 2 (of 2 products)
Our Best Selling Products