Pheasant
STATUS: Possibly Retired, Hard And Unusual To Find Bird
LATIN NAME: Phasianus Colchicus
SHAPE: Serving Pieces Like Pizza Plates, Bakers, Tureens

NOTE: The Portmeirion Pheasant might be retired, but am not sure. It is getting quite difficult to find.
.....
The Portmeirion bird from the Natural History Of British Birds by Edward Donovan is shown on the left and a drawing from The Complete Morris's British Birds 1891 is on the right.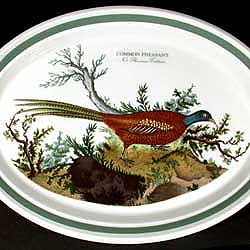 $0.00
Retired Rare Birds Of Britain Oval Platter PHEASANT 13 Inch By Portmeirion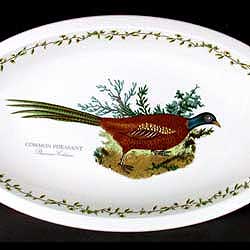 $0.00
New And Retired Birds Of Britain Pheasant 13 Inch Platter Or Bowl By Portmeirion
Displaying 1 to 2 (of 2 products)
Our Best Selling Products